Meet Our Administrative Team
Danielle
Danielle has been in dentistry since 1998 and brings a diverse work experience background to our practice. She is our Insurance Coordinator and is skilled in administering our patient's insurance plans. Danielle likes being able to provide her helpful service to patients to receive the dental care they need. Her warm smile and calm demeanor only enhance her focused efficiency. She is from Greeneville and married to her husband, Aaron. Together, they have three beautiful children, Cayden, Dustin, and Maura. Danielle loves spending time with her husband, children, and friends, and watching the Florida Gators! We will continue to try and convert her. Go Vols! She is a fantastic addition to our team.
Tarah
Tarah is our excellent Financial/Treatment Coordinator and an asset to our administrative team. We value her many years of experience in the dental field and her vast knowledge and skill in working closely with patients to help schedule appointments and assist your financial planning in obtaining your desired smile. She is married to Brock, and they have three lovely children, Brantley, Brooklyn, and Greyson. Outside the office, she likes spending time with family, playing sports, and loves watching her children participate in their chosen sports. "I love dentistry because I love talking with patients and helping them in any way I can." We appreciate her gift of an easygoing nature and expertise as she assists our patients in achieving their dental goals.
Rhonda
Rhonda has been part of our dedicated Church Street team and is a beautiful addition to our Tusculum Dental Care family. She attended E.T.S.U. and is a Registered Dental Assistant. However, you will find her at the front desk as a welcome face, keeping the office running smoothly and talking to her with ease on the phone. She is extremely knowledgeable about dental insurance and helping patients to schedule their dental needs. Rhonda is married and has one sweet daughter. Her hobbies are reading, word puzzles, going to the lake, and spending time with her family.
Christy
Christy is a valued member of our administrative team who will meet and greet and skillfully help you achieve your best smile. Her appreciable managerial skills are complemented by her years of experience as a Registered Dental Assistant with certifications in Nitrous Oxide and Coronal Polishing as she joined dentistry in 1996. Christy is passionate about getting to know our patient families and ensuring they have the best experience at every visit. She and her husband Shane have a son Quinton who lives in Nashville. Christy enjoys spending time with family, traveling, camping, Lake Life, and the beach when she has time.
Meet Our Clinical Team
Assistants
Alexa
Alexa comes to us all the way from the west coast in sunny Long Beach, California. She is an Expanded Functions Dental Assistant. She and her husband have been happily married for more than ten years. They have fur babies, although they anticipate the arrival of their first baby soon. Alexa grew up as a pastor's kid and is involved in ministry with her family, which she finds humbling and rewarding. On the weekends, Alexa enjoys camping, hiking, kayaking, spending time with family, and leading worship at her church.
Marcie
Marcie is a Registered and Certified Dental Assistant. She is an abundantly experienced dental assistant continuing to make each patient feel comfortable. Marcie is married and enjoys her daughter, stepdaughter, and granddaughter. She enjoys spending time with family, swimming, and gardening.
Miranda
Miranda is from Afton, Tennessee, and is one of our Expanded Functions Dental Assistants. She graduated from Walters State Community College in 2000 with her Registered Dental Assistant degree. In 2017, she received her Expanded Functions Restorative certificate, followed by her Expanded Functions Prosthetic certificate in 2019. She recently earned her DANB certificate from the Dental Assisting National Board in 2021. Miranda and her husband, Derick, have two daughters, Kylee and Kolby. In her free time, she enjoys riding horses, camping, attending concerts, traveling, and making memories with her family.
Katie
Katie Lawing is Registered Dental Assistant from Greeneville, Tennessee. She earned her Associate of Science in Pre-Dental Hygiene from W.S.C.C. She also has certifications in IV Therapy, and nitrous oxide monitoring. She and her husband, Stacey, have been married for five years. Their oldest son, Peyton, is 13 years old, and Wilder is two. The family also loves their four-legged family members, two male Labrador Retrievers. In her spare time, Katie can be found playing with her sons, tending to her garden and trees, and enjoying the outdoors next to their backyard fire pit. Her favorite season is fall. She also is an avid reader and can be found with a book in her hands.
Katie M
Katie is a Registered Dental Assistant and serves as our Hygiene Coordinator, and attended W.S.C.C. Outside of work, she enjoys spending time with her family and husband, Eric, of two years. She has two children, Lennon and Finley, and two stepchildren, Eric Jr., and Kennedy. The family pet is a kitty named Skyline. She is a car buff and loves to drive. She also loves spending time with her children, playing with them, gaming, and relaxing with her family.
Hygiene Team
Donna
Meet Donna, a Dental Hygienist from Blountville, Tennessee. She is a graduate of East Tennessee State University, where she earned her Associate Degree in Dental Hygiene in 1995. She and her loving husband, Andy, have been married for 24 years. Together, they have two children, their daughter Madison and son Drew. She enjoys spending time with her family, exploring hiking trails, and taking walks. Donna is known by her friends as the "hostess with the mostess" because she enjoys entertaining family and friends on the weekends. She has been with Tusculum Dental Care for 26 years and treasures the relationships she has built with patients and ensuring that they get the care they need.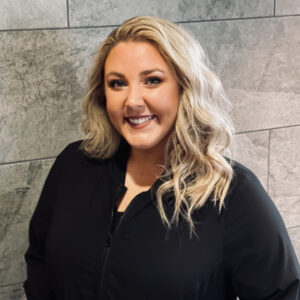 Megan
Megan is a Dental Hygienist from Mosheim, Tennessee. She received her Associate of Applied Science from Water State Community College and her Bachelor of Science in Dental Hygiene from East Tennessee State University, where she also served as the class Vice President. Her professional certifications include Registered Dental Assistant and Registered Dental Hygienist. She also is certified to administer local anesthesia, nitrous oxide, and use of a diode laser. Megan and her family have deep roots in Greene County, where her dad has been a member of the Sheriff's department for more than 30 years. Her mom and step-dad have been with the Mosheim Water Department for 25 years. Her older brother is a CRNA in Kentucky. Megan considers herself a southpaw, so you will see her working on the opposite of the dental chair. In past careers, she worked as a beauty ambassador for Lancome cosmetics, just prior to starting dental hygiene school. She continues offering freelance makeup artistry in her spare time. She enjoys a variety of music genres, including music from the 50s and 60s through today's hits. She enjoys reading books and loves binging on Netflix crime shows. Megan collects tennis shoes of all colors and styles, although her go-to color for apparel is leopard print. While working, she enjoys educating patients on ways to maintain or improve their oral health. She also finds pleasure in learning things from her patients!
Kandice
Kandice received her B.S. in Dental Hygiene in 2008 from E.T.S.U. and an Associate of Science degree from W.S.C.C. She is dental laser certified and enjoys her role as a skilled Dental Hygienist, offering a beaming smile, encouraging words, and providing dental education in teaching our young to mature aged patients on optimum dental techniques and education for a lifetime of smiles. Kandice is married and has three delightful children and two fantastic bonus children with her husband. Although very busy, Kandice finds time to enjoy outdoor activities such as boating, fishing, hiking, and travel when she has free time.
Rita
Rita received her B.S. in Dental Hygiene in 1994 and graduated Cum Laude. With her many years of professional dental hygiene experience and her dental laser certification, Rita enjoys her role as a Dental Hygienist. Her super caring personality, kindness, and gentle touch make her patients feel at ease. Rita and her husband have one lovely daughter. Rita's favorite pastime is being outdoors and enjoying her Toy Poodle named Bridget.
Hannah
Hannah Melton was born and raised in Greeneville, Tennessee. She studied at Walters State Community College, where she graduated Summa Cum Laude with her Associate of Science in Pre-Dental Hygiene. Later, she went on to study at East Tennessee State University for an additional two years, where she graduated Cum Laude with her Bachelor of Science in Dental Hygiene. She is one of our registered dental hygienists at our practice. She also is certified to administer local anesthesia and has her CPR certification. Hannah's roots run deep in Greeneville. Her entire family was born and raised here, which is why she considers herself a true southern. She has three other siblings. In May of this year, she will wed the love of her life, who is currently in pharmacy school at Bill Gatton College of Pharmacy. Together, they have one dog, Tank, who is the light of their lives. In her free time, Hannah enjoys exploring new places and adventures. When it's warm outside, she, her fiancé, and their dog enjoy taking walks. She hopes to travel more and build their dream home. A fun fact about Hannah is that she has a pet goldfish named Ollie that is nine years old!